2021 Louisiana Slam Tournament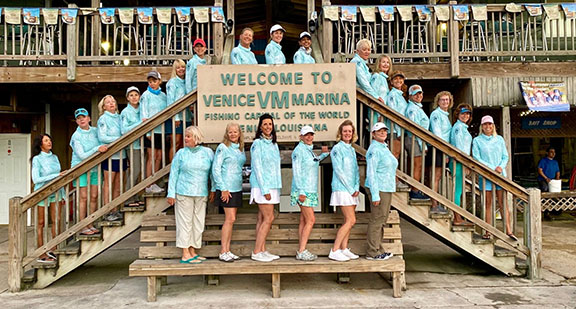 Louisiana Slam 2021 Chairwomen: Suzie Villere, Rebel Caplinger & Julie Hebert
Another IWFA Louisiana Slam Tournament is in the history books with 567 total fish caught & released, of which 485 were redfish, residing in the Mississippi River Marshes of Venice, Louisiana!  Congratulations to this year's Grand Champion Summer Bracher from Nags Head N.C.  Summer is a newcomer to this IWFA tournament and demonstrated her angling skills by also racking up 2 grand slams.  The 3 day tournament brought together 24 women from 6 different states who were more than ready to reunite their friendships and welcome in the 6 new members who participated. The Louisiana Tournament Host Suzie Villere, Rebel Caplinger and Julie Hebert once again put on an epic event featuring amazing Cajun Cuisine and fishing with some of the best guides in south Louisiana. One of the many highlights was the Disco theme party, "Ain't No Stoppin' Us Now – Venice or Bust!", where the ladies danced the night away.
Awards as fellows: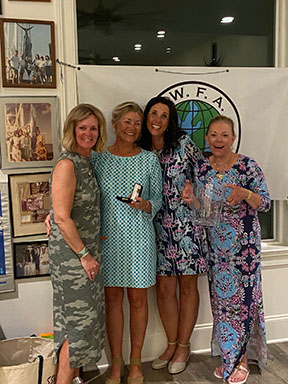 Grand Champion: Summer Bracher with tournament chairs Rebel Caplinger, Julie Hebert and Suzie Villere. Summer was also winner of the Newcomer Award and Most Slams.
2nd Place:  Leiza Fitzgerald
3rd Place: Rebel Caplinger
---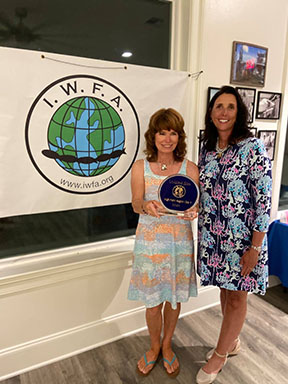 High Point Angler Day One: Leiza Fitzgerald with tournament chair Julie Hebert
High Point Angler Day Two: Lisa Everett (no picture)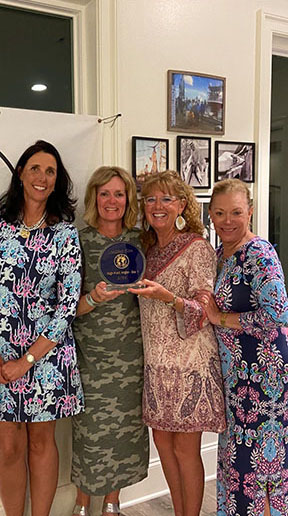 High Point Angler Day Three: Connie O'Day with tournament chairs Julie Hebert, Rebel Caplinger and Suzie Villere
---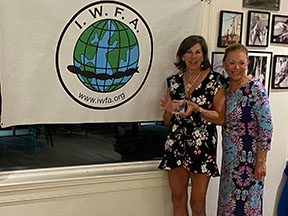 The "First Fish Caught" Jill Gaddis with tournament chair Suzie Villere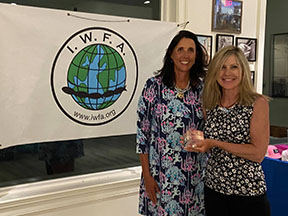 The "Last Fish Caught" Rose Ippolito with tournament chair Julie Hebert
---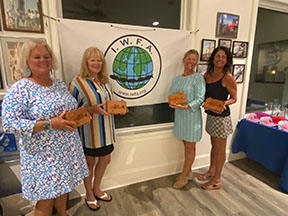 First Place Team: Lisa Everett, Brenda Moore, Summer Bracher and Lynn Adersano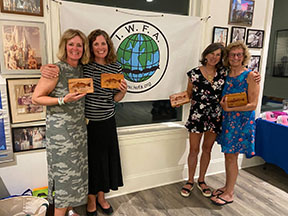 Second Place Team: Rebel Caplinger, Jen Goodell, Jill Gaddis, Aledia Tush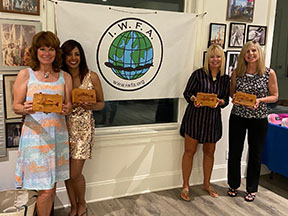 Third Place Team: Leiza Fitzgerald, Rosemary White, Julie Brown and Rose Ippolito
---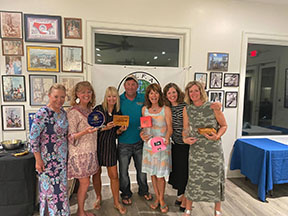 Top Captain Brent Balay with anglers Suzie Villere, Connie O'Day, Julie Brown, Leiza Fitzgerald, Rose Ippolito and Rebel Caplinger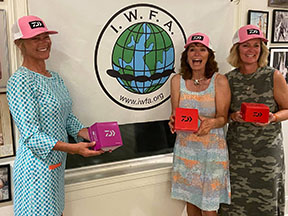 Diawa Tournament Winners: 1st Place Summer Bracher, 2nd Place Leiza Fitzgerald, 3rd Place Rebel Caplinger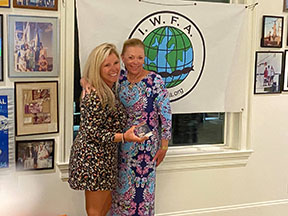 Most Spots Winner: Katie Jo Davis with Tournament Chair Suzie Villere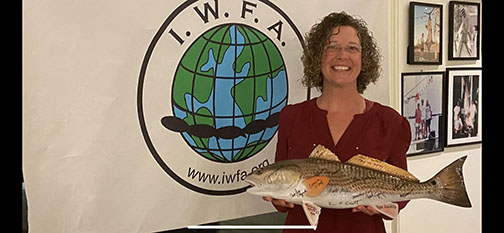 IWFA Scholarship Trust Winner of the King Fish Mount signed redfish Vallie Blakley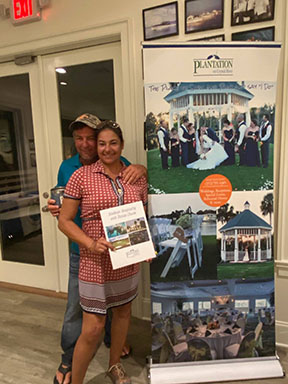 Winners of the Plantation on Crystal River Trip Brent & Merideth Ballay
---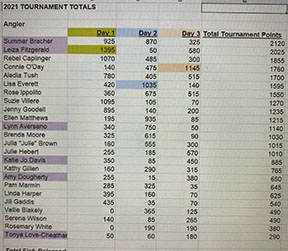 Final Score
---
"A special thank you to the sponsors of the IWFA Louisiana Slam Tournament to include: Diawa, Coolibar, Plantation on Crystal River, LA Big Game Fishing Club, Venice Marina, and JayBo Art."