President's Message
by: Kathy Gillen, IWFA President 2021/2022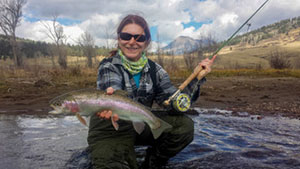 What a journey we have been on! We are finally fishing together again and the infamous Louisiana Slam and the 2nd Virtual Funament are now in the history books.  Your Board is preparing to roll out a full schedule of events!  We have organized an IWFA Event Steering Committee to evaluate several options for both Tournaments and Funaments.  We will be announcing our future event schedule in September.  Our next scheduled event is the 2021 Annual Awards Luncheon in Islamorada on October 17.  The Islamorada Backcountry Tournament follows the luncheon and the Keys ladies are working behind the scenes to roll out the red carpet for our members.  This is the first time the Luncheon will be held in the Keys, and we are anticipating a wonderful event with some exciting auction items.  Invitations are in the mail and your reservations can be made online on the iwfa.org website.
While the Islamorada Tournament is currently full, we often have cancellations so please contact Brenda Moore, our Tournament Chair at [email protected] to be put on the tournament waitlist.  If you are interested in hosting a fishing event in your area, please contact Brenda who will guide you through the process.  We would love to see more local events with members just getting together to fish or socialize.  
In addition to our events, we have a few initiatives underway including a new IWFA Buddies program.  The Buddies program will partner an existing member with a new member and assist them during the first 2 years through the organization and all its benefits.  If you are interested in becoming a mentoring buddy, please contact Connie O'Day or Gail Kennedy McManus.
It takes a village of volunteers to run an organization and I can't thank our Board enough for all they do.  Please consider getting involved and we hope to see you in person at one of our events soon.
---
2021 2nd Annual IWFA Virtual Funament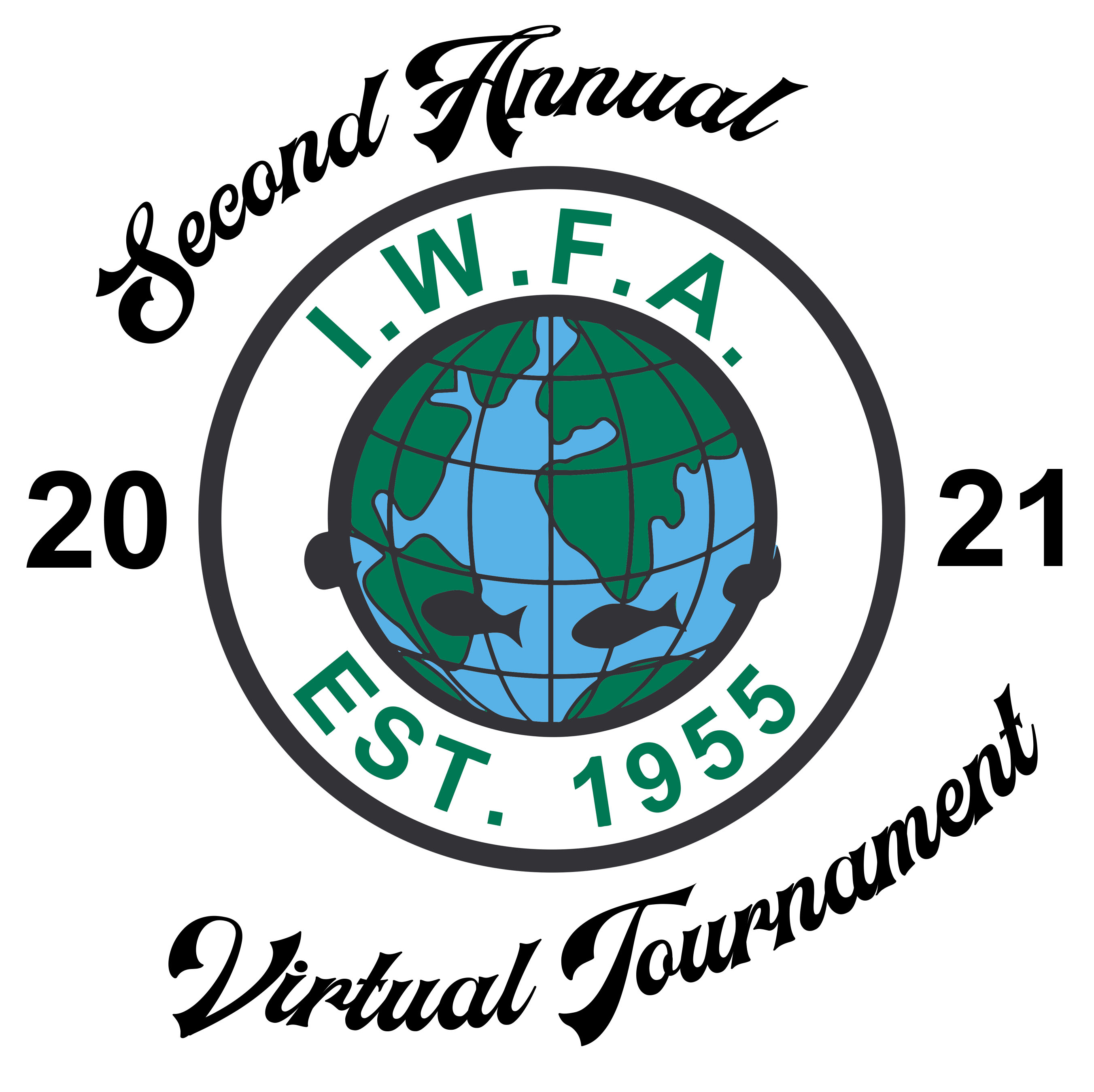 Congratulations to all of the IWFA members who fished in the Second IWFA Virtual Tournament during the months of April and May. The forty-six women and four Junior Anglers who signed up for this tournament fished from different locations all around the country. The 10 teams managed to reel in and release an astounding 16,767 fish which included 73 different species! The teams were drawn just before the tournament began at a what else? A virtual kickoff party! This was a great way for the members to get to know their teammates and form some new friendships through texts, emails, and pictures over the two-month long tournament. Great job ladies! 

A big shout out to all of the generous sponsors that helped to make this tournament possible, Columbia, Glide Bearings, Nick Meyer Art, Fish Bites, Danco, Coolibar, CCA Florida, and Shimano. Please remember them when you are shopping.

Also, a big thank you goes to our Tournament Chair Lisa Bellar and the Tournament Committee, Brenda Moore, Mary Weingart, Carmen Perez-Padron, Kathy Gillen and Connie O'Day for making this tournament happen. Because of your efforts and creative ideas, you made this tournament a fun way for members compete with each other despite the fact that because of Covid we could not hold a regular in person tournament this past year. Thank goodness all of that is changing now and we are going back to having our regular tournaments again!

Winners of the 2nd Annual Virtual Tournament:

1st Place - Dreadnaughts; Most Species with 49; Total Fish 3,303Linda Denkert, Rosemary White, Lorraine Francis, Linda Harper, Pam Marmin 2nd Place - Reel Girls; Total Fish 3,046Mary Edmonds, Denise Freihofer, Carmen Perez Pardon, Christine Wilson, Katie Jo Davis 3rd Place - Split Shot Hotties; Total Fish 2,315Emily Hanzlik (JR), Gail Kennedy McManus, Corinne North Fuller, Misty Wells, Leiza Fitzgerald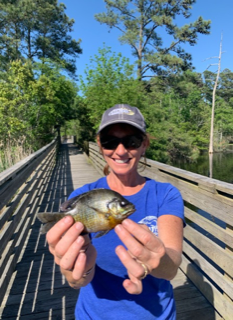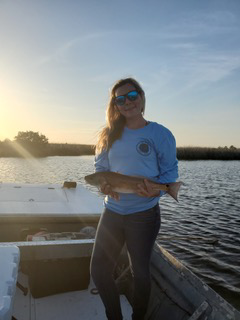 Amy Dougherty from Kitty Hawk, North Carolina / 
Jessica Honovic from 
Homosassa, Florida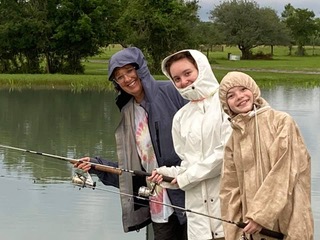 Connie O' Day from Pearland, Texas

Fishing on the final day in the rain with her granddaughters who are both junior anglers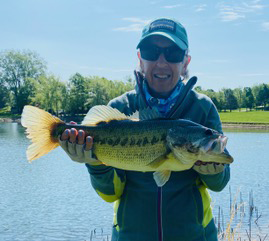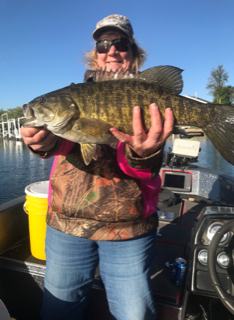 Joan Vandergriff, caught on fly, from De Soto, Kansas  /  Mary Edmonds from Marengo, Illinois
---
IWFA Louisiana Slam Tournament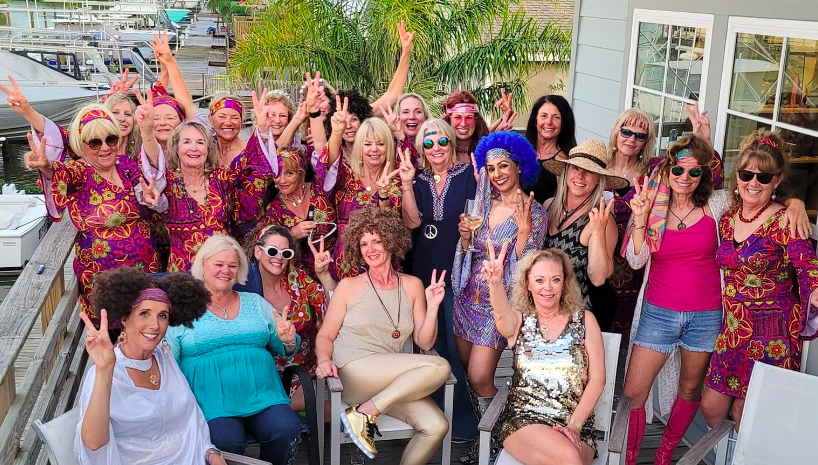 Another IWFA Louisiana Slam Tournament is in the history books with 567 total fish caught & released, of which 485 were redfish, residing in the Mississippi River Marshes of Venice, Louisiana!  Congratulations to this year's Grand Champion Summer Bracher from Nags Head N.C.  Summer is a newcomer to this IWFA tournament and demonstrated her angling skills by also racking up 2 grand slams.  The 3 day tournament brought together 24 women from 6 different states who were more than ready to reunite their friendships and welcome in the 6 new members who participated. The Louisiana Tournament Host Suzie Villere, Rebel Caplinger and Julie Hebert once again put on an epic event featuring amazing Cajun Cuisine and fishing with some of the best guides in south Louisiana. One of the many highlights was the Disco theme party, "Ain't No Stoppin' Us Now – Venice or Bust!", where the ladies danced the night away. 

Congrats to the Winners Grand Champion: Summer Bracher2nd Place:  Leiza Fitzgerald3rd Place: Rebel Caplinger First Fish: Jill GaddisLast Fish: Julie Hebert / Rose IppolitoMost Spots: Katie Jo DavisMost Slams: Summer BracherNewcomer Award: Summer Bracher Top Angler Day 1: Leiza FitzgeraldTop Angler Day 2: Lisa EverettTop Angler Day 3: Connie O'Day 1st Place Team: Summer Bracher, Brenda Moore, Lisa Everett, Lynn Aversano2nd Place Team: Jill Gaddies, Rebel Caplinger, Jen Goodell, Aledia Tush3rd Place Team: Julie Brown, Leiza Fitzgerald, Rose Ippolito, Rosemary White 1st Place Guide: Brent Ballay2nd Place Guide: Kasye Bourne3rd Place Guide: Peter Young

 

A great thank you to the Amazing Sponsors of this years event:

Diawa

,

Coolibar

,

Plantation on Crystal River

,

LA Big Game Fishing Club

,

Venice Marina

,

JayBo Art

.
---
Tribute to our lost IWFA members
We are all saddened to have lost three IWFA members since our last newsletter. Merrily Simmons, Diane Locke, and Melissa Littlewood. They all played vital roles in contributing to the betterment of the IWFA as an organization and for that we will always be in their debt. Below are tributes to each of them written with love by those who knew them well.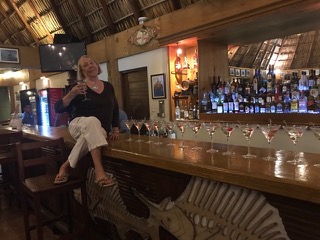 Diane Locke
By Joan Vernon


On February 25th Heaven gained a new and very special Angel when Diane Locke went through the Pearly Gates. Diane was the epitome of a classy lady, but one who didn't mind getting her hands 'fishy'! She was highly respected as an astute businesswoman, an accomplished angler and a kind soul with a great personality.   Diane had a special love of life and was appreciative of her blessings.
That was reflected in her choice of boat name: "O Lucky Me"!
Diane joined IWFA in 1987 and immediately fit in with the membership.  Although she had fished extensively in the Bahamas, she took such pleasure in participating in the IWFA International Billfish Tournaments. She reluctantly signed up for the first IWFA Light Tackle tournament since she did not know how to use a spinning rod much less cast! She will be laughingly remembered by her fishing partners for the shower cap she wore when it rained so as not to catch a cold! On a trip to the Masai Mara in Kenya we all got a chuckle when Diane tried to explain to the Masai bartender at our camp that her martini must be stirred not shaken!!! Diane won many of the IWFA Tournaments that she entered. Her love of billfishing was deep and she literally fished right up until the pain of her cancer was too great. 
The IWFA was blessed to have Diane as a member, board member, Treasurer and Chairman of the IWFA Scholarship Trust.  She was inducted into the IWFA Hall of Fame n 2009.  Diane's legacy is carried on by her son, Scott, and granddaughter, Joclyn.  She is sorely missed by her IWFA friends. See you on the Rip Diane.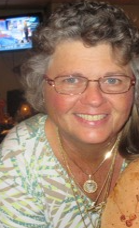 Merrily Simmons
By Leiza Fitzgerald




Merrily, Merrily, Merrily life is but a dream. That is exactly what I thought of when I met Merrily Dunn for the first time. She was such an easy going, compassionate and caring person. I had heard there was another lady fishing captain who ran out of Bradenton but never expected to find my Salt Sister.  That was over 20 years ago and the beginning of our friendship and fishing careers as lady fishing captains.
To say that Merrily was loved and she is missed is an understatement. She was instrumental in affecting so many lives. She was the best friend, great daughter, partner, teacher and influenced so many others throughout her life, not only as a fishing female but as a person. As a daughter she cared for her mother in her home and always was there for her mom. As a substitute teacher she loved teaching children and helping them to become good students. As a captain she specialized in getting first time anglers hooked on the sport, she was an Orvis Fly Instructor, Top Gun Instructor for The Extreme Backwater Fishing School, Ladies Let's Go Fishing Instructor and one of the top female Redfish anglers in the country as well as a long-time member and sought-after fishing partner in the International Women's Fishing Association. She was so proud of her membership and the friendships she developed in IWFA.
She loved sporting her jewelry and disc's and glowed when she talked about the wins and the friends she made during her membership. She cherished the amazing friendships she fostered in IWFA and all the members seem to love her in return. There was nothing about Merrily that wasn't loveable. For those of you who never met Merrily Dunn Simons you will never know personally how very special she could make you feel. Each of you who knew Merrily, know what I am sharing here and have wonderful memories of your own to share about her. 
I was fortunate to spend some time with Merrily in May of 2020 just a few days before she went to that great fishing spot in heaven, where she is now teaching the angles how to catch fish. Here are her words to me that day……." I am so sad, not for me but for all of those who I will leave behind. The pain I will cause to my loved ones and friends by leaving is unbearable to me. I love you my Bayou Mermaid, please help them to remember me for how I was, not how I am today". Merrily Dunn Simons, our Salt Sister, our friend and that special woman who is legendary in the fishing industry for her skill and compassion.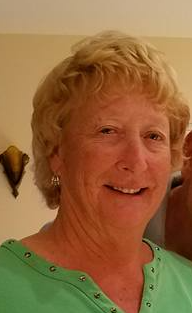 Melissa Littlewood
By Christine Wilson




On June 27th   Havens gates opened and another Angel stepped thru, her name was Melissa Littlewood….unfortunately for us her time came way to soon, she is going to be missed immensely. Melissa was one of those people that loved to be around others, she loved to know their story, where they came from what they did, she was a great listener, a respected and very successful business woman, but most of all she loved the outdoors.  No matter what she was doing whether it was tennis, golfing, hunting, or fishing you can bet there was going to be a competition! 
I was fortunate enough to have her in my life when she married my Uncle, and to have worked side by side with her in her business to witness firsthand how driven she was especially in a "man's business." Her mind set was she could accomplish anything you set your mind to, and I loved that….I can remember telling her that I helped reroof our house with my husband ourselves and she said "You Go Girl!" this was always her expression doing something that most woman would never attempt to do.
Melissa joined the IWFA after my uncle passed away and several years ago she told me about the group……. well the love affair was on, she hooked me up…..lol!  We would go fishing at least twice a month she loved passing on her experiences in the tournaments and all the fish she caught, showing me how to tie knots and everything else, most of all knowing that I now have another generation to add to the IWFA with my grand-daughter!  She adored all the comradery between the woman Anglers of this group, and how close knit they are, I'm sure many of you have fished with her and cherish the stories and friendship you had with her.   About a year and a half ago the cancer came back with a vengeance, there were days I knew she didn't feel well when we were out fishing, but Melissa just love to be outside enjoying every minute she had left. So to you Aunt Melissa I say….. I have been blessed to have you in my life, you will be truly missed and in my heart forever!  To all the IWFA members……. I thank you!
---
Monthly Milestone Winners
December 2020 thru June 2021
Congratulations to all our monthly award winners! 
Turning in those affidavits could put you on this list too!
December
January
Cindy Kearns, Union, IL - 50th Monthly Award

Linda Denkert, Islamorada, FL - 150th Monthly Award
February
Brooke Black, Tavernier, FL - 150th Monthly Award

Corrine North-Fuller, Sarasota, FL – 50th Monthly Award

Leiza Fitzgerald, Sarasota, FL – 50th Monthly Award
March
April
Kim Clement, Tavernier, FL - 50th Monthly Award

Mary Edmonds, Marengo, IL - 150th Monthly Award

Rosemary White, Clearwater, FL – 10th Monthly Award

Misty Wells, Clearwater, FL – 1st and 10th Monthly Awards

Audrey Koocher, Bronxville, NY – 1st Monthly Award

Emma Hunt, Pearland, TX – 1st Monthly Award
May
Amy Dougherty, Kitty Hawk, NC, 75

th

- Monthly Award

Brooke Black, Islamorada, FL, 200th Monthly Award

Jessica Honovic, Homosassa, FL, - 10th Monthly Award

Katie Jo Davis, Citrus Springs, FL - 10th Monthly Award

Mary Peachin, Tucson, AZ, - 50th Monthly Award 
June
Linda Denkert, Islamorada, FL - 200th Monthly Award

Leiza Fitzgerald, Sarasota, FL - 75th Monthly Award

Mary Parker-Weingart, New Bern, NC - 75th Monthly Award

Allison Stattner, Jupiter, FL - 50th Monthly Award

Audrey Koocher, Bronxville, NY - 10th Monthly Award

Lynn Aversano, Homosassa, FL – 1st Monthly Award
Junior Angler Monthly Milestone Report December 2020 – May 2021
 7 of the Junior Anglers have submitted fish and 1,832 fish have been caught and released, Congratulations Girls!
February
March
April
---
Welcome to our new members!!
Pamela Taylor - Wye Mills, MD

Sheena Sloan - Englewood, FL

Katie Jo Davis - Citrus Springs, FL

Jessica Honovic - Brooksville, FL

Marianella Spradlin - Lutz, FL

Misty Wells - Clearwater, FL

Stefanie Semmes - Crystal River, FL 

Terrie Huffmaster - Quitman, GA

Nicole Colwell - Mauldin, SC

Sarah Scarborough - Wanchese, NC

Lynne Napoleon - Magnolia, TX

Deborah Todd - Baton Rouge, LA

Danielle Pennington - Ethel, LA

Lynn Aversano – Homosassa, FL

Patricia Marler - Kill Devil Hills, NC

Tonya Love-Cheatham – North Palm Beach, FL

Kimberly Zimmermam – Ocean City, MD

Fawn Ouellette - Thorton, NH

Emily Whitaker – Fairview, PA

Lara Doran – Kitty Hawk, NC

Mecartney Black - Tavernier, FL (Junior Angler)

Summer Stevens - Kitty Hawk, NC (Junior Angler)

Savanna Stevens – Kitty Hawk, NC (Junior Angler)

Talulah Morris – Kitty Hawk, NC (Junior Angler)

Layton Kravet – Atlanta, GA (Junior Angler)

---
The International Light Tackle Association, otherwise known as ILTTA, will be holding it's 80th tournament this year on November 16th - 21st. It will be held out of Marina Pez Vela, Guatemala. If you would like to put a team together you can find all of the information on their website at ILTTA.org.
---
Why the IWFA Has A Photo Policy
In case you sometimes wonder why the IWFA has established a policy for the safe handling of fish for photos and will not publish photos of fish being held vertically we found a couple of useful articles for you to read. Even if you are not taking a photo and just releasing your fish these articles are worth reading. Holding a fish by the jaw and hanging it in a vertical fashion is the single most detrimental act one can inflict upon a fish intended for release. When the fish is hung vertically, the weight of the fish causes vertebrae to separate in the spine and causes the organs to shift downward in the stomach cavity and potentially tear. 
A study was done on Barramundi, (a close relative to the Snook) to measure the effects of jaw hanging (aka hanging each fish by its jaw before releasing it). In the study, 50 out of 50 of these fish that were handled in this manner eventually died as a direct result of being jaw hung. That is an astounding statistic and should be an absolute eye opener for every conservation minded angler. https://myfwc.com/research/saltwater/fish/snook/cryptic-mortality/  
Another useful article published on the Salt Strong website goes through the steps of safely holding and releasing your fish, especially for larger fish. https://www.saltstrong.com/articles/catch-and-release-fishing/  We all want our fish to swim away healthy when we release them so please take the time to look over these articles!
Thank you!
---
Congratulations to the Scholarship winners for 2021. At the annual meeting that was held on April 25th , Lisa Everett, president for the Scholarship Trust, announced that ten scholarships were handed out totaling $25,500.00. Congratulations to all the recipients!
Don't forget to use Amazon smile when making your Amazon purchases. When you log in to do some shopping on your regular Amazon Page, please go to Smile.Amazon.com. When the smile page comes up you will see that you can choose a charity to receive a donation when purchasing from Amazon. Please select IWFA (International Women's Fishing Association) & we will receive 0.5% of your purchase price. Then, whenever you shop, just make sure you are on the Smile.Amazon.com page and all of your purchases will work with this program! Let it rain donations from Amazon…it makes us SMILE!
If you would like to make a tax-deductible donation to the IWFA Scholarship Trust, please send your donations to IWFA SCHOLARSHIP TRUST, P.O. Box 530816, Miami Shores, FL 33153-0816 and feel free to research our endeavors through the following link: www.iwfa.org.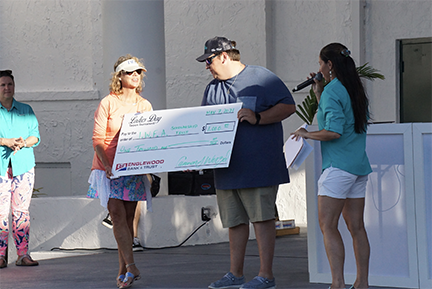 Board member Rebecca deRosa, representing The IWFA Scholarship Trust, is pictured accepting a $1,000.00 donation from the Boca Grande Area Chamber of Commerce in conjunction with the Ladies Day Tarpon Tournament that was held this year on May 15th.  The three-hour long ladies tournament celebrated its 30th year in 2021. Despite the rough waters, 138 anglers on 36 boats managed to release 15 Tarpon. A big thank you to the chamber for choosing the IWFA Scholarship Trust this year for this donation!