The 2022 Annual Luncheon Meeting
and
2021 Awards Presentation
The 2022 Annual Luncheon Meeting and Awards Presentation for the 2021 winners was held at the Ft. Lauderdale Yacht Club on April 3rd. With the theme "Celebrate" Kathy Gillen and her team did a wonderful job transforming the room and giving everyone something to celebrate. The professional event planners, sponsored by Gillen Yacht added their touches with beautiful flowers for the tables, greenery, and balloons everywhere. The room quickly filled up with many familiar faces but there were also several new faces, and it gave everyone a chance to meet with them. There was also a table with some enthusiastic Jr. Anglers who were in attendance. Connie O'Day opened the luncheon with a beautiful Invocation and Kathy Gillen welcomed the membership. Kathy was happy to report that the IWFA was back to having a full tournament season this year, more reason for everyone to celebrate! Both the IWFA Board of the Directors and the Scholarship Trust Board were introduced. Kathy Gillen asked for her board members to come up to the podium individually and talk to the membership about their position on the board and what they do. Lisa Everett gave a report and announced that this year they were able to award 14 scholarships totaling $35,500. Afterwards both boards got together for photos. With Zoom meetings, phone conservations and texting it was a nice change for both boards to be able to get together in person for a photo op.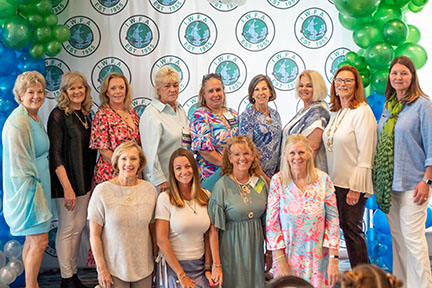 IWFA Board of Directors 
From left to right, Mary Weingart, Brenda Moore, Suzie Villere, Pam Marmin, Carmen Perez-Padron, Jill Gaddis, Lisa Everett, Kathy Gillen, Lisa Bellar, Bottom, Roberta Arostegui, Allison Stattner, Connie O'Day, Denise Freihofer. Absent Jen Goodell.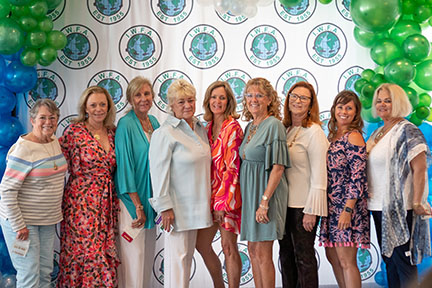 Scholarship Trust Board
From left to right: Glenda Kelly, Suzie Villere, Joan Vernon, Pam Marmin, Rebel Caplinger, Connie O'Day, Kathy Gillen, Brooke Black, Lisa Everet
---
The Denkert and Black Families Celebrate 3 Generations of IWFA Fishing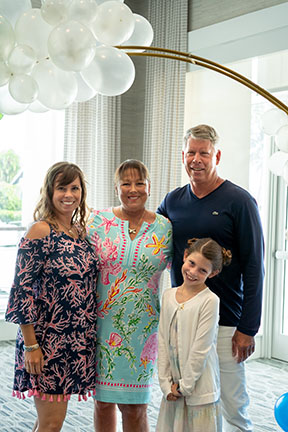 Congratulations to Three Generations of IWFA Award  Winners! 2021 was an IWFA first with mother, daughter, and granddaughter all winning fishing awards in 2021. Brooke Denkert Black, took the top honors winning the Ann D. Crowinshield Award for the first time, her mom, Linda Denkert won the Kay Rybovich Award for the first time. Brooke also won the The Vernon Fly Award, The Orvis Total Fly Award, and The Lew's Plug Award. Brooke's daughter Mecartney Black won the Jr. Angler Top Saltwater Angler Award. Congratulation's ladies on all your hard work in 2021!
2021 IWFA Annual Awards
Anne D. Crowninshield                                     Award Kay Rybovich Award
Brooke D. Black                                                       Linda Denkert
       
---
 
---


---

Master Angler
Roberta Arostegui
The Master Angler Award
The Master Angler is the next step after a club member has reached 500 monthly awards. Right now, there are a few IWFA ladies competing for this award, but so far Roberta Arostegui was the first to finish this challenging program. For numerous reasons Roberta had to wait to receive the award, but everyone was happy to see Kathy Gillen finally present it to Roberta at the 2022 luncheon. Previously. Roberta had written how difficult winning this award was. "I fished multiple days without a single fish that met the requirements…always just an inch or two shy of the required length. Those "short fish" happened repeatedly!" Despite an arm injury from reeling in a black grouper and multiple amber jacks which forced her to take a break and recuperate for a while, she didn't give up and when she finally recovered, she was able to return to finish the challenge.
"I will always be very thankful to the IWFA for creating this challenge and to the fish gods and my wonderful husband Marty who made this possible."
---
The Hall of Fame Induction 
 A special presentation was made at the luncheon by past President and previous Hall of Fame recipient Joan Vernon. Joan was inducting two IWFA members, Pam Marmin and Lisa Everett into the IWFA Hall of Fame. She talked about their tireless contributions to the IWFA and Joan had the whole room giving both Pam and Lisa a standing ovation when she was done speaking as they accepted their awards. Past Hall of Fame Recipients Molly Fleming and Glenda Kelly were also at the luncheon to help welcome the newest inductees into the IWFA Hall of Fame. Congratulations to Pam and Lisa!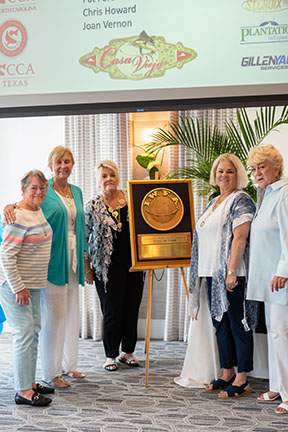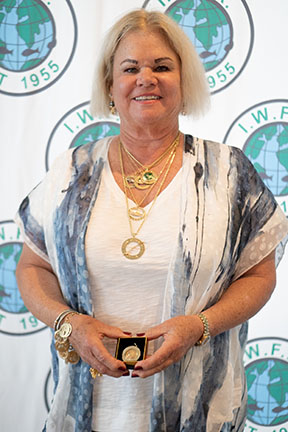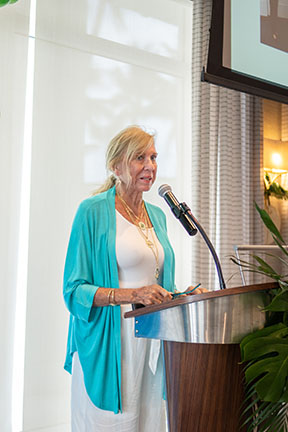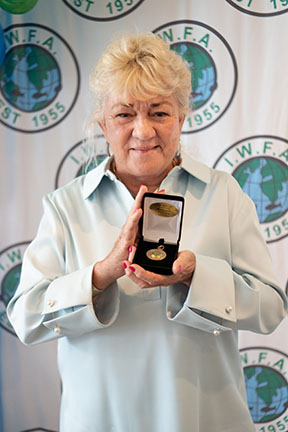 Pictured: Old & New Hall of Fame Members, Lisa Everett, Joan Vernon, Pam Marmin
---
Kathy Gillen presented Molly Fleming a special award for her fifty-year membership in the IWFA. Molly has been a member longer than anyone else in the IWFA's history and has contributed greatly to the club over the years. She served as a board member, tournament director and also took on many projects over the years to help benefit and improve the club. Molly started out as a youngster in the IWFA as a Jr. Angler when her mother was a member. She is pictured with some of our current Jr. Anglers and with Kathy Gillen as she is presented with her award.Congratulations Molly!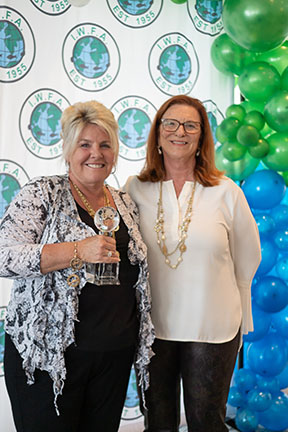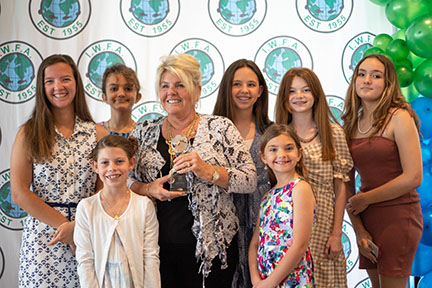 ---
The Silent Auction
 The final highlight of the luncheon came at the end of the program. Thanks to Sponsorship Chair Mary Weingart, the amazing silent and raffle items that filled the tables on either side of the room had drawn a lot of excitement. Everything from a trip to Casa Vieja and The Plantation on Crystal River to numerous fishing items that included equipment, jewelery and clothes all donated by our generous sponsors. Just before the closing of the silent auction and the ticket raffle the bidding begn for a special item donated by artist Chris Howard. It was a beautiful large oil painting of underwater snook on a canvas. It was the one item in the live auction and the proceeds would to go to the Scholarship Trust for a Scholarship named in honor of Pam Marmin's son, Frank Marmin, who had recently passed away. Rebel Caplinger was the auctioneer and did an excellent job of getting the bidders going and fired up. In the end Pierre and Suzie Villere won the painting but Pierre promptly asked Rebel for the microphone, and he told Pam that he and Suzie would like for her to have the painting. Pam graciously accepted and thanked Pierre and Suzie for their kindness.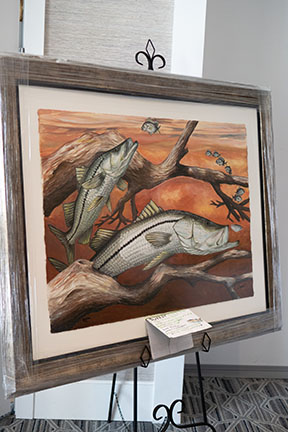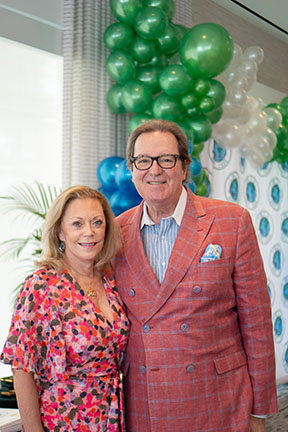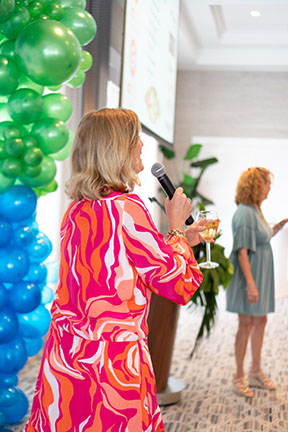 Chris Howard Painting

Artist Chris Howard, his wife, Pam's family

Pierre and Suzie Villere

Auctioneer Rebel Caplinger
---
Please take a moment to check out our amazing Sponsors, without them we wouldn't have all our wonderful gifts and awards. Thank You to each and everyone of you! 
---
Don't forget to use
Amazon Smile
when making your Amazon purchases. When you log in to do some shopping on your regular Amazon Page, please go to Smile.Amazon.com. When the smile page comes up you will see that you can choose a charity to receive a donation when purchasing from Amazon. Please select IWFA (International Women's Fishing Association) & we will receive 0.5% of your purchase price. Then, whenever you shop, just make sure you are on the Smile.Amazon.com page and all of your purchases will work with this program! Let it rain donations from Amazon…it makes us SMILE!
---
 If you would like to make a tax-deductible donation to the IWFA Scholarship Trust, please send your donations to IWFA SCHOLARSHIP TRUST, P.O. Box 530816, Miami Shores, FL 33153-0816 and feel free to research our endeavors through the following link: www.iwfa.org.