IWFA BASS TOURNAMENT - RETURNS AFTER 10 YEARS
The All-Release Bass Tournament returned with rousing success after over a ten year hiatus! This classic club event at Roland Martin Resort & Marina included two full days of fishing on Lake Okeechobee and a lively theme night barbecue. The coveted gold disc was awarded to Top Angler Jing Torn - congratulations! In total, 69 Largemouth Bass were released. 
The 2022 Bass Tournament was held at Roland Martin Marina and Resort on April 3-5 at Lake Okeechobee. We had 14 anglers and were presented with some challenging fishing and low catch and release numbers. For the two-day event only 69 largemouth bass were caught and released. Congratulations to Jing Torn for her 1st place finish, Mary Weingart placed 2nd and Brenda Moore placed 3rd. Team winners were: First Place Team (Mary Weingart and Lisa Everett), Second Place Team (Lorraine Francis and Brenda Moore) and Third Place Team (Pam Marmin and Connie O'Day). A big thank you to Allison Stattner for an amazing job pulling this event together and everyone had a great time. Once all invoices have been paid a final accounting will be presented.
The winning individual anglers were 1st Jing Torn, 2nd Mary Weingart, 3rd Brenda Moore.
The winning angler teams were 1st Lisa Everett/Mary Weingart, 2nd Lorraine Francis/Brenda Moore, 3rd Connie O'Day/Pam Marmin.
The top individual anglers earned engraved metal bass art by Ashley Weber Art.  The top team anglers were presented with custom Clutch and Release with Bass Flags. A fun way to take your trophy on the next fishing adventure! The clutches are made by Natalia Frost of Morehead, NC, 
Allison Stattner, Brenda Moore and Pam Marmin hosted the event.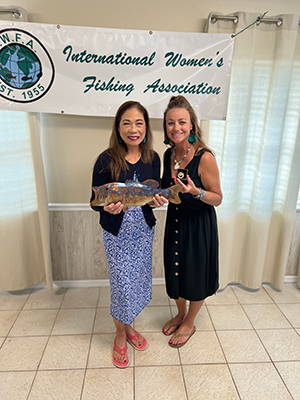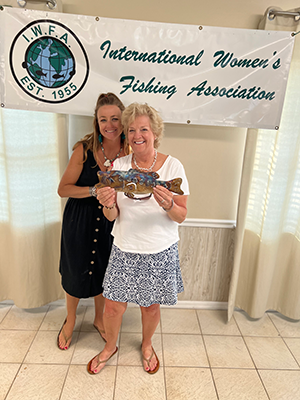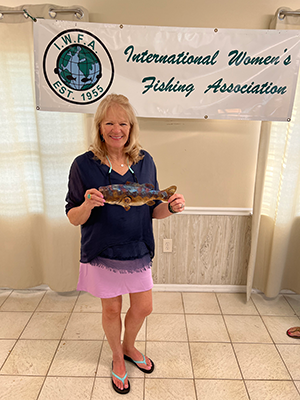 1st Jing Torn                                             2nd Mary Weingart                                            3rd Brenda Moore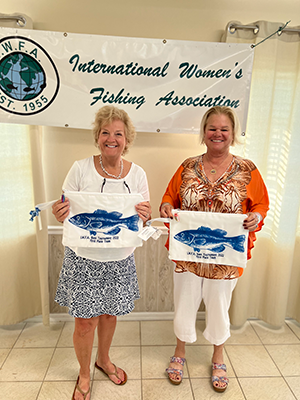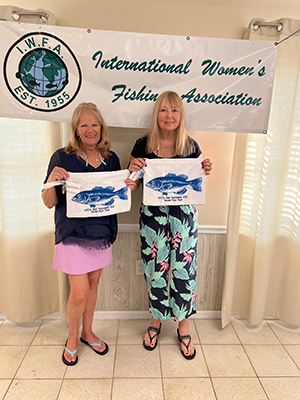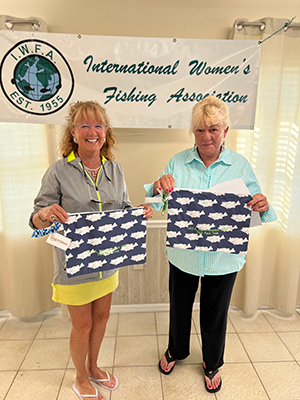 1st Team Mary Weingart/Lisa O Everett         2nd Team Brenda Moore/Lorraine Francis         3rd Team Connie O'Day/Pam Marmin
A giant THANK YOU to our wonderful sponsors for the amazing gifts, beverages, and awards for our 2022 BASS Tournament.
Click on the link(s) to check their beverages and products out...